What is a Delaware Statutory Trust (DST)?
A Delaware Statutory Trust (DST) is a legal entity (similar to an LLC) created under Delaware law that permits fractional ownership of real estate assets. DSTs are classified as "direct interests" and possess the unique ability to qualify for 1031 exchange. Tax benefits include depreciation, mortgage interest deductions, and many more.
To learn more about Delaware Statutory Trusts, we encourage investors to read our free eBook titled "The Power of 1031 Exchanges and Delaware Statutory Trusts (DSTs)" and visit our Resource Center.
DST properties offer 1031 exchange investors the simplicity and flexibility to close quickly when faced with strict 1031 timelines.
Institutional Quality Real Estate
Access institutional quality real estate in high barrier-to-entry markets allowing partial ownership in properties that would otherwise be out-of-reach. 
Best-in-Class Property Management
Experienced asset and property management teams who handle day-to-day operations, which eliminate management responsibilities and create passive ownership. 
Investors can divide their investments among multiple DSTs, which may provide for a more diversified real estate portfolio across various geographical locations and property types. 
The DST structure offers investors the continued tax advantages of owning traditional real estate including 1031 exchange and depreciation in addition to simplified year-end tax documents. 
Lower Minimum Investments
DST properties can accommodate lower minimum investments versus traditional real estate. Lower minimum investments can also benefit 1031 exchange investors through added diversification, timeline crunches, leftover boot and backup insurance. 
The Exchange-X Marketplace
The Exchange-X Marketplace offers 1031 exchange investors direct access to over 50 leading DST sponsors and dozens of active offerings from around the country. Simply create an account and gain instant access to the broadest selection of 1031 DST replacement properties.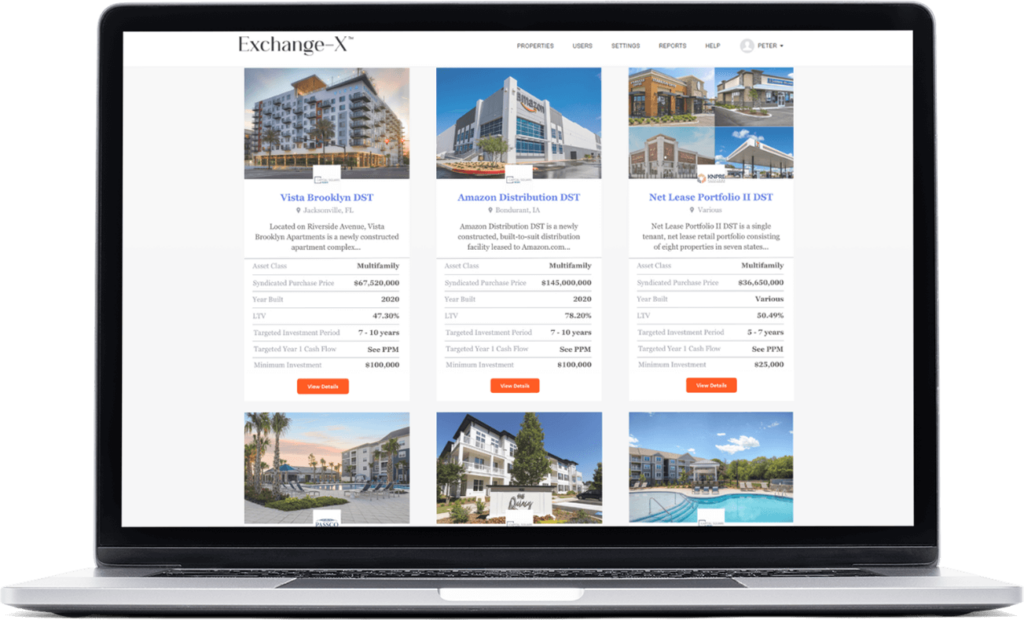 Our Platform Couldn't Be Easier!
Take a look at some of our closed investments and you'll see the diverse portfolio available to you.
Join Exchange-X today to view our open investments!